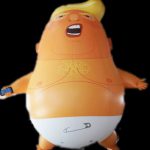 It would be funny if it weren't so scary. A megalomaniac exhibiting paranoid and massive narcissistic behaviors is ranting again. Yes, BC (Big Crybaby) feels put upon by honest reporting and attacked when someone dares to disagree.
Try to imagine BC as one who meditates. Perhaps a difficult thing to imagine, something I doubt but almost anything is possible. The BC mantra would be "ME, ME, ME." A state of egotistic euphoria might be the result. Consequently, the ego believes that if a person or report should list shortcomings – that should be censored. BC appears to believe reports and search engine listings should be predominately adorations. Should list only positives, praises and if a negative comment is going to be included it should be at the end of the list – so far down no one will search that far. Have you ever 'googled' yourself? Can be an amusing pastime but when BC tried it, the results were not pleasing and then the twitter bird went wild.
BC announces new "should". Any negative comment or position which contradicts BC should be censored, made illegal and/or erased. Although it seems to be okay for BC to rant, call names, demean, embellish and lie via social media.
BC is said by some to be an upstanding Christian. However, we continue to see words and actions that no true Christian would stoop to. Words are strong, predicting, promoting or advocating hate and violence can lead to that hate and violence increasing. Sadly, the political party depicted as red should be Red In The Face for allowing such noise and behavior to continue to sully the country. But, no – some are telling constituents that rather than expecting action from their representatives they should notify the White House. Obviously, those representatives are too busy raising money for re-election. Somehow I don't imagine even 100,000 letters would have any impact. Representatives – that's your job. Get busy.